Press Release – Monday, November 13, 2023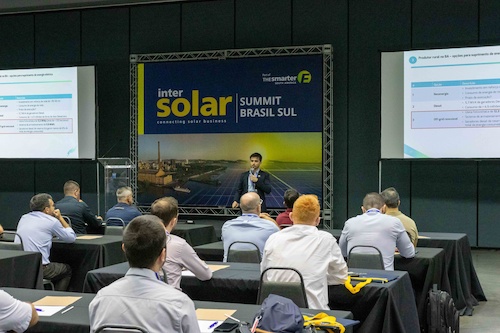 Porto Alegre, November 13, 2023 – Brazil's energy industry is embracing a new era. Renewable sources have raised a new profile in which solar photovoltaic energy plays a prominent part. The energy transition poses new challenges to the industry while affording new investment and expansion opportunities in several areas. Those were key themes in the debate among energy experts at Intersolar Summit Brasil Sul, LATAM's leading event afor the solar energy industry, on 7–8 November at the FIERGS Events Center.
A total of more than 2,000 solar energy enthusiasts visited the exhibition or attended workshops and conference sessions in which the Brazilian energy context was analysed and future business prospects were outlined in terms of technological solutions, and also in light of regulatory and taxation regimes. Gracing the exhibition floor, 51 exhibitors comprising manufacturers, distributors, integrators, service providers and academic institutions showcased their products or services, including product launches and innovations. The success of this regional event has prompted the Managing Director of Solar Promotion International, Florian Wessendorf, together with Aranda Eventos e Congressos, to announce a next edition for 29–30 October 2024. "We are delighted with the launch of the Intersolar Summit Brasil Sul in Porto Alegre," he says. "Exhibitors, visitors and conference participants have given us very positive feedback. The Intersolar Summit Brasil Sul fits perfectly into our strategy of connecting solar and renewable energy industry in Latin America."
In the debating panel that closed the conference, the expansion of energy consumption in Brazil was detailed with special reference to the country's massive generation potential, its development based on new technologies, and the opportunities in all segments of an intense and decisive production chain. "On average, the country's electricity consumption should grow by 3.2% annually in the next 10 years, adding up to a 37% total growth," said Márcio Takata, CEO of Greener, a market intelligence company focusing on the energy transition. To meet this galloping demand, the country will need renewable energy generation sources, and these are now becoming increasingly more accessible.
Takata's impressive presentation showed that variable generation from renewable sources such as solar and wind supplied 22% of the Brazilian energy needs in January 2022. By 2024, this should reach 28%, with an estimated 33% in 10 years, just based on projects currently either approved, contracted or under construction. However, the increase in variable generation will spin off changes in the entire energy industry. "While both hydroelectric generation and thermoelectric generation are dispatchable –meaning that they can adjust their power output to variations in requirements of the electrical grid on demand–, solar and wind generation are non-dispatchable," says Markus Vlasits, NewCharge's CEO. "In other words, they are variable sources by nature and do not allow for scheduled dispatches."
Technically, the transition of the Brazilian energy grid to one with increasing renewable sources will cause it to shift from a high-inertia model to a low-inertia model. The high inertia stems from synchronous generators such as those in hydroelectric plants, and makes for a system with great stability. The low inertia is associated with the inverters used in photovoltaic and wind plants, which are referred to as intermittent energy resources.
The impact of fluctuations brought about by solar and wind energy generation was made clear by the blackout that hit Brazil on last 15 August. A failure in the performance of wind and solar farms close to Quixadá, in the state of Ceará, began at 8:30am and resulted in an interruption of 16,000 MW across the country.
BRAZIL AFTER THE BLACKOUT – The incident represented an eloquent watershed for the energy transition in Brazil. "For the ONS [the National Electric System Operator], solar and wind energy were to blame, as they are not in tune with the realities of demand," says professor José Marangon, CEO of MC&E. For him, however, the solution to the stalemate is technological. "We should not go back to trying to create a more stable grid by building thermal plants. We should instead invest in innovation that will give inverters used in solar and wind generation the ability to solve the problem by simulating synchronous generators," says Marangon. "By using grid-forming inverters and storage systems, we will be able to exert control on frequency and inertia so as to provide a more stable service."
The path proposed will require the ONS to test and approve the new inverters so that the Brazilian energy industry continues to benefit from the potential of renewable energy with no loss of quality. "We need to get the ONS to see that our photovoltaic solar energy system can do this," he argues. "After the 15 August blackout, the world wants to know what actually happened and what we are going to do about it. We have the opportunity to find a solution and present it to Brazil and the world."
Intersolar Summit Brasil Sul has partnerships with the Brazilian Association of Photovoltaic Solar Energy (ABSOLAR), the Brazilian Association of Distributed Generation (ABGD), the Smart Grids Institute at the Federal University of Santa Maria, NewCharge, the Brazil-Germany Chamber of Commerce (AHK), Sebrae-RS, Senai-RS, Sindienergia-RS, Movimento Solar Livre, Greener, National Institute of Clean Energy, and NewCharge.

CONTACT
Gioia Müller-Russo
Solar Promotion International GmbH
P.O. Box: 100 170, 75101 Pforzheim, Germany
Tel. +49 7231 58598-218 | Fax +49 7231 58598-28
mueller-russo@solarpromotion.com | www.solarpromotion.com