Press Release – Wednesday, October 25, 2023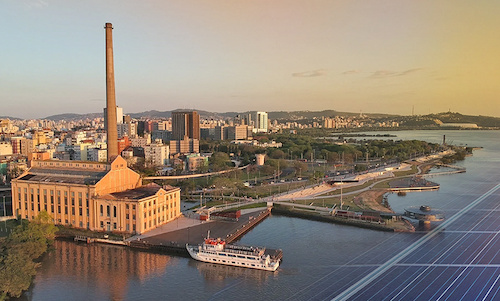 Porto Alegre, October 25, 2023 – In recent years, the Brazilian southern states of Rio Grande do Sul, Santa Catarina and Paraná have stood out in the nation's solar market. Investment volume, generation levels and technology development in the region's three states have secured them a distinguished place on the Brazilian solar business map. As the leading solar exhibition & conference in Latin America, Intersolar South America will soon hold the first edition of a special event for Southern Brazil: Intersolar Summit Brasil Sul, on 7–8 November at Porto Alegre's FIERGS Events Centre on Avenida Assis Brasil, 8787. Registration for the conference and free booking to visit the exhibition must be made at https://www.intersolar-summit-brasil.com/ingressos.
Intersolar Summit Brasil Sul will be organized and produced by Aranda Eventos & Congressos in partnership with Solar Promotion International GmbH. Its aim is to encourage strategic debates for the development of renewable solar energy in the region, thus generating quality information and opportunities for the benefit of all steps in the production chain. PV solar energy has created at least 1 million jobs in Brazil in one decade, and has accrued more than R$163 billion in investments. The figures relate to the 2012–2023 timeframe reported by the Ministry of Mines and Energy. Rio Grande do Sul alone has around 70,000 solar jobs.
The southern states' strong connection with agribusiness will feature prominently in the two days of the event. Solar energy can and should be one of the main sources of electricity closely tied to agriculture. With 2023 data released by Sindienergia-RS, it is estimated that the state of Rio Grande do Sul alone has solar PV installations in something like 37,000 farms, 4,000 factories, 200,000 residences and 22,000 commercial premises.
"The figures on solar energy in Brazil are not by themselves enough to help us understand that we are dealing with something much bigger than business, economy and companies. Sustainability is on the global agenda and renewable energy sources are no longer a debate on the future. They are about the present and thus we must make room now for the knowledge, best practices, systems efficiency, governmental and private responsibilities, research and innovations that are emerging moment by moment," says Dr. Florian Wessendorf, Managing Director of Solar Promotion International GmbH.
The Intersolar Summit Brasil Sul organizers expect to attract 2,000 visitors to more than 50 exhibitors across the exhibition's 4,000 sqm, and bring together 350 delegates to hear 25 speakers at the conference. The exhibition program also includes workshops and presentations.
The event has partnerships with the Brazilian Association of Distributed Generation (ABGD), the Brazilian Association of Photovoltaic Solar Energy (ABSOLAR), the Federal University of Santa Maria Smart Grids Institute, and NewCharge.
Quick facts
When: 7–8 November 2023
Exhibition hours: 10am – 7pm
Conference hours: 10.30am – 6pm
Where: FIERGS Events Centre – Av. Assis Brasil, 8787 – Porto Alegre, Brazil
How: Exhibition tickets: Free
Conference tickets: R$400 until 20 October; R$440 from 21 October to 6 November; R$480 onsite
Organisers and Producers: Aranda Eventos e Congressos and Solar Promotion International
PRESS CONTACT:
MILIM COMUNICAÇÃO
Sheila Meyer – sheila@milim.com.br | +55 51 99977-9966
Tatiana Csordas – tatiana@milim.com.br | +55 51 98111-8734
Daniele Alves – daniele@milim.com.br | +55 51 98182-9382

CONTACT
Gioia Müller-Russo
Solar Promotion International GmbH
P.O. Box: 100 170, 75101 Pforzheim, Germany
Tel. +49 7231 58598-218 | Fax +49 7231 58598-28
mueller-russo@solarpromotion.com | www.solarpromotion.com