Press Release – Thursday, May 11, 2023
Munich/Pforzheim, May 11, 2023 – Photovoltaics modules, string inverters for free-standing installations, improved mounting and monitoring: the solar industry has made efficiency its mission, and it is coming along in leaps and bounds. And the pioneering products and solutions from the Intersolar AWARD 2023 finalists reflect that. The winners will be announced on the eve of The smarter E Europe, Europe's largest platform for the energy industry, which encompasses four individual energy exhibitions – Intersolar Europe, ees Europe, Power2Drive Europe and EM-Power Europe – and takes place at Messe München from June 14–16.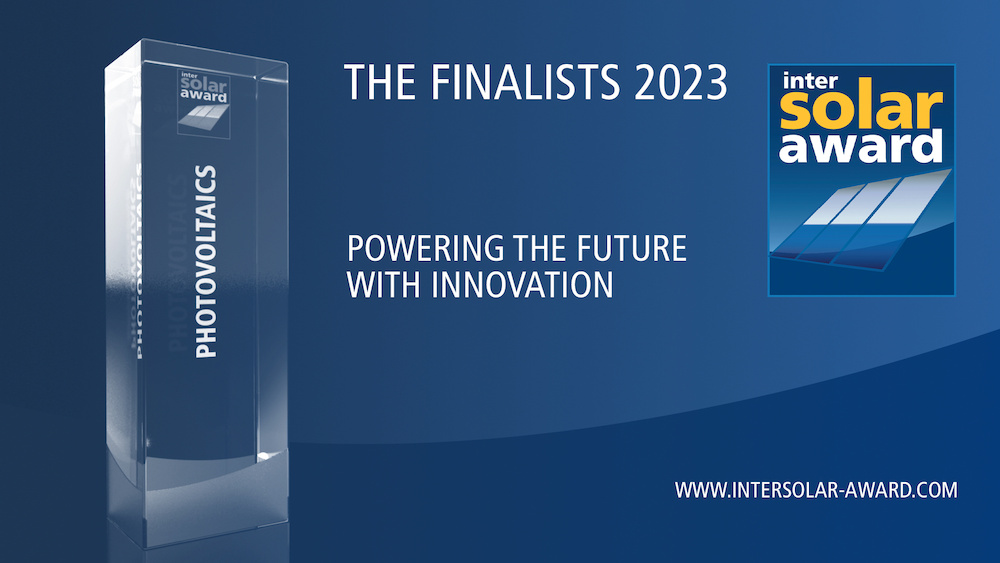 The Intersolar AWARD puts innovative solutions from companies in the solar industry center stage. The renowned industry award will be presented on June 13 at the International Congress Center München (ICM). The ees AWARD and The smarter E AWARD will also be presented alongside the Intersolar AWARD, while the Power2Drive AWARD and the EM-Power AWARD will be making their debut this year. The awards honor the most innovative products and projects that play a key role in the success of the new energy world for the benefit of society at large.
High-performance PV modules for the residential market
The Intersolar AWARD finalists underscore solar industry trends, such as the European Union's ambitious climate protection goals and the surging energy prices that continue to drive the demand for photovoltaic (PV) modules in the residential market. Producers are responding by producing modules with even higher output and sizes of up to two square meters. The result are premium PV modules with impressive efficiency levels of between 22 and 23.5 percent with a very even, black surface design.
In addition to this premium segment, the range of special products for roofs with reduced load-bearing capacity, green roofs, façades, balconies and private gardens continues to grow. This includes particularly lightweight and semi-flexible PV modules, innovative substructures and mounting systems as well as different color schemes. Another trend is the simultaneous generation of electricity and low-temperature heat with so-called photovoltaic-thermal (PVT) modules, which is being promoted by the upcoming widespread deployment of heat pump technology.
Efficient inverters for large installations
Despite their smaller footprint and relatively low weight, the new generation of string inverters for free-standing installations offer a higher performance than ever. Just like modern central inverters, they are able to achieve almost 99 percent efficiency. Efficient, decentralized inverters for large installations come with up to 330 kilowatts (kW) alternating current. The residential sector is seeing a continuing trend towards hybrid inverters with battery connection and back-up power function, a technology that is now even applied to module inverters.
There are also some new developments in the area of cable ducts and the detection of cable fires in solar parks or combiner boxes, as well as in the area of mounting systems for flat roofs and gable roofs. These improved, resource-optimized systems make for simple (click) assembly or the complete replacement of the roof covering.
The Intersolar AWARD 2023 finalists
DAH Solar (China): Full-screen PV modules
The innovative frame design of the full-screen PV modules maximizes their surface area and prevents power generation losses caused by soiling. The frame edge on the front side of the module is minimal and the front glass is attached to a wide frame surface at the back. The visually appealing modules have an output of 460 watts (W) and an efficiency of 21.3 percent.
Enphase Energy (USA): IQ8
The module inverter is the first of its kind on the market, with the ability to be grid-connected and operated off-grid. IQ8 is able to provide an emergency power supply during the day – even without a battery backup. It also boasts all the usual benefits of a module inverter when it comes to mismatching, shading and positioning losses, monitoring, and disconnection at the module level. The six available variants with an alternating current output between 249 and 360 volt-amperes (VA) are suitable for a wide range of module sizes for residential applications.
HUAWEI Technologies (China): SUN2000-330KTL
The SUN2000-330 KTL high-performance string inverter for free-standing installations impresses with its output of 330 kilovolt-amperes (kVA), its compact design, and an EU efficiency of 98.8 percent. Its wide input current range makes it suitable for modules with a cell size of 162, 180 and 210 millimeters. Equally, its high input voltage range of up to 1,500 volts (V) allows for long module strings and efficient system layouts. The integrated IV Diagnosis Tool reliably detect errors in the PV installation while the inverter offers quick and reliable protection against errors on the direct current side of a PV installation.
Shenzhen Aiko Digital Energy Technology (China): ABC modules
The ABC modules combine two highly efficient technologies: integrated back contact solar cell architecture and passivating contacts. As a result, these PV modules can reach an impressive output of 460 W at a size of 1.95 square meters and an efficiency of up to 23.6 percent. The fully black version is just as remarkable, with an output of up to 450 W and an efficiency of up to 23.0 percent. Aiko relies on an innovative metallization process without silver for the ABC module, which significantly reduces silver consumption.
SmartHelio (Switzerland): Predictive software to prevent system downtime
The plug-in software based on artificial intelligence (AI) supports operational and maintenance teams by automatically detecting faults and quickly taking countermeasures to avoid solar installation downtime. The software can be easily integrated with most PV monitoring platforms. Physical models are personalized using AI and machine learning (ML) on any monitored PV systems. Patterns in the operating data can quickly be matched to typical errors. The pay-per-fault pricing system is also interesting.
SolarPaint by Apollo Power (Israel): Fully flexible rollable PV modules for multiple applications
The flexible PV modules with an efficiency of 17 percent are incredibly versatile thanks to their stability, flexibility, performance, and light weight. They can even be used on surfaces that may appear to be unsuitable at first glance. For example, they could be used on roofs with a low roof load, on car bodies or truck roofs, as floating PV modules, on sidewalks, and in a wide range of consumer applications. The PV module rolls are more than six meters long and 2 meters wide and have an output of 1.8 kW, making installation and logistics for a wide range of PV projects easier.
Sunmaxx PVT (Germany): Sunmaxx PX-1
The PVT modules reach an electric output of 395 W combined with a solar thermal output of 1,522 W thanks to 108 monocrystalline half-cut cells based on passivated emitter and rear cell technology and installed on a flat plate collector with an efficiency of 60 percent. While standard PV modules reach cell temperatures of 65 degrees Celsius, the PVT modules are capped at 30 degrees Celsius when they are connected to a heat pump. The Sunmaxx PX-1 weighs just around 3.5 kilograms per square meter more than a comparable PV module. The efficient and cost-effective generation of solar power and heat supply makes the most of restricted space.
TSGC Technologies (Taiwan): PV Circulator
The efficient and low-cost recycling of PV modules is a precondition for a sustainable energy system. Since 2022, PV installations with a combined capacity of more than one terawatt have been installed around the world, using different formats and materials. The PV Circulator is a system developed by TSGC Technologies that aims to break down the majority of these PV modules into their component materials within one minute to allow for a recycling rate of almost 100 percent.
Wavelabs Solar Metrology Systems (Germany): SINUS-360 Advanced
The ability to measure solar cell performance with speed and accuracy is at the heart of quality assurance in PV production. The versatile SINUS-360 Advanced measuring device is based around a light source featuring 27 LEDs with an ultra-uniform light field and high spectral coverage. Each of the 27 LED channels can be configured individually, making the light spectrum suitable for measuring tandem solar cells too.
voestalpine Automotive Components Schwäbisch Gmünd (Germany): iFIX
The smart substructure for PV modules on flat roofs is made from low CO2-emission greentec steel in a single deep-drawn sheet rather than lots of individual components. This makes storage and installation much easier, with the patented click system doing away with the need for tools and halving the time required for installation. PV modules are fastened to the system using tip and module clamps. iFIX can be used as a large-scale substructure on most flat roofs – even those with soft insulation materials.
Further information on the awards can be found at:
www.TheSmarterE-award.com
www.intersolar-award.com
www.ees-award.com
www.powertodrive-award.com
www.em-power-award.com