Press Release – Monday, April 24, 2023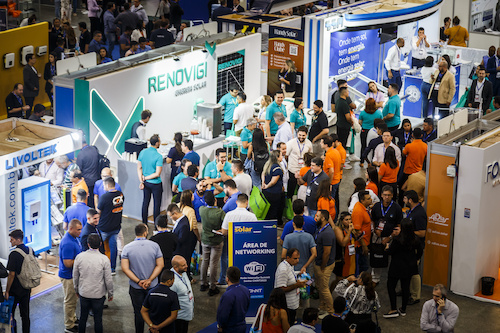 April 24, 2023: Last 18–19 April, the city of Fortaleza hosted Intersolar Summit Brasil Nordeste, widely regarded to be the leading event in the Northeast dedicated to discussing and inspiring solar and renewable energy development. It was attended by more than 5,000 people, including solar industry experts, entrepreneurs and officials, as well as government and civil society representatives. In the two-day summit, 25 top notch speakers presented their ideas and insights, while 92 exhibitors showcased their latest solar technology innovations and solutions.
On Wednesday 19, the event's second day, the discussion panel "Case Studies and Development of the GH2 Chain in the Brazilian Northeast", featuring Matheus Kleming, Project Manager for Green Hydrogen and Derivatives at Casa dos Ventos Energias Renováveis, Gustavo Silva, Director of Operations at Qair Brasil, and Hugo Figueiredo, President of the Pecém Port and Industrial Complex, talked about opportunities for investors and the possibilities of creating a new production chain in the Northeast.
In addition, the challenges and solutions needed for creating projects capable of promoting sustainable development and the use of clean energy in the region were discussed. "Green hydrogen has proved to be the main possible solution for deep decarbonisation. Ceará's climate and location, together with its infrastructure for logistics and large-scale production, are ideal for carrying out projects of high potential and scope. This will allow the state to become the main player for this product. However, we must developed an adequate GH2 production chain, in addition to promoting a domestic market for it," said Gustavo Silva.
The Green Hydrogen Hub
For Hugo Figueiredo, Ceará now has "the greatest opportunity in its entire history to transform its economy". Figueiredo stresses that the state's potential for low-cost GH2 production will make it one of the most competitive in the world. The aim is to reach 25% of all the green hydrogen entering the Port of Rotterdam, a strategic partner of the Port of Pecém, which he heads.
"The state is confronted with an unprecedented opportunity provided by the energy transition, with no way back, and it will radically transform Ceará's energy industry: the Green Hydrogen Hub," says Figueiredo, adding that the state has recently gone from 24 to 27 memorandums of understanding for the production of GH2, the last three with Chinese companies, while Germany will go on being the largest consumer market of Ceará's energy.
New products
The Chinese Ginlong Solis exhibited their latest generation of residential inverters, the S6-GR1P (2.5-6) K-S. This range of products supports higher input current in its PV module while featuring a new, lighter and more beautiful design. It also features integrated AFCI protection.
"The Brazilian Northeast has a very complex energy system, and inverters must have a greater capacity to withstand grid surges. To adapt perfectly to this type of problem, our range of products also supports remote parameter adjustments," explains Desheng Lei, Country Manager for Brazil at Ginlong Solis.
In their first time at Intersolar Summit, WDC Networks –a B3-listed technology company active in telecommunications, solar energy, data centres and e-commerce– announced intelligent solutions and equipment from their home automation product range Casa Conectada, which can also be powered by solar energy, and presented their portfolio of solutions from their Solar business unit.
"At our booth, we held demonstrations on how a connected home can intelligently automate such tasks as controlling the lighting of rooms or the settings of air conditioning units and other devices, even remotely, thus providing time and financial savings to the end user through a more rational use of electrical energy," says WDC Networks' director, Gustavo Momente.
SMA –a leading German company supplying photovoltaic solutions– also had a strong team present at the Summit, who showcased their main releases for commercial and industrial applications. The SMA EV Charger Business is a commercial infrastructure for charging stations aimed at quick refuelling electric vehicles. It allows integration into various charging backends and different energy sources, whether from the grid or with solar power, or indeed both.
The two days of Intersolar Summit Brasil Nordeste demonstrated the continued importance of discussing the energy transition in Brazil and confirmed the need for greater investment in renewable energy sources. The event also highlighted that the Brazilian Northeast's potential for generating solar and wind energy as well as for producing green hydrogen may play a fundamental role in the transition.
Platinum Exhibitors
The wide roster of exhibiting companies included Aldo Solar, CCM Solar do Brasil, CGB Energia, CHINT, Clamper, Connectoway, Conte Solar, Delos Energy Supplies, Elgin, Fortlev Solar, Fotus Distribuidora Solar, Genyx Solar Power, JNG, Meu Financiamento Solar, Nansen, Serrana Solar, SolarZ, Solfácil, Sou Energy Solar, Sunred Energy and WEG.
Check the complete list of exhibitors: https://www.intersolar-summit-brasil.com/patrocinadores-apoio-e-parceiros-de-midia
Organizers
The Intersolar Summit Brasil Nordeste is organized by Intersolar South America - Latin America's largest exhibition and conference for the solar industry: Solar Promotion International GmbH, Pforzheim, Freiburg Management and Marketing International GmbH (FMMI) and Aranda Eventos & Congressos Ltda, São Paulo.
Quick facts:
Intersolar Summit Brasil Nordeste
Date: April 18 to 19, 2023
Venue: Centro de Eventos de Fortaleza
Fortaleza, Brazil
For more information about Intersolar Summit Brasil Nordeste and how to register, please visit its official website: https://www.intersolar-summit-brasil.com/home
Follow us on Social Media:
Press Contact:
AD2M Engenharia de Comunicação
www.ad2m.com.br | (85) 3258.1001
Camila Grangeiro – camilagrangeiro@ad2m.com.br | +55 (85) 9.9659.6890
Waldirene Lisboa – waldirene@ad2m.com.br | +55 (85) 9.966957901
Mauro Costa – maurocosta@ad2m.com.br | (85) 9.8879.8474

CONTACT
Gioia Müller-Russo
Solar Promotion International GmbH
P.O. Box: 100 170, 75101 Pforzheim, Germany
Tel. +49 7231 58598-218 | Fax +49 7231 58598-28
mueller-russo@solarpromotion.com | www.solarpromotion.com